KORG microKORG 37-Key Keyboard Synthesizer and 8-Band Vocoder with X-Style Bench Bundle
Korg microKORG Keyboard Synthesizer/Vocoder w/ X Style Keyboard Stand
Korg microKORG 37-Key Keyboard Synthesizer with 8-Band Vocoder & Microphone
Knox Gear Adjustable X Style Keyboard Bench
Tascam TH-03 Closed Back Headphone (Black)
Knox Gear Single Braced Adjustable Keyboard Stand
KORG microKORG 37-Key Keyboard Synthesizer and 8-Band Vocoder with X-Style Bench Bundle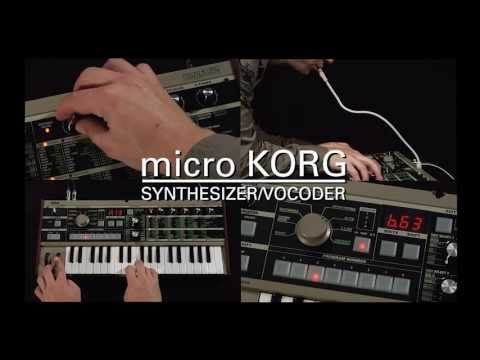 Product highlights:
Synthesizer with analog modeling tone generator
Powerful-sounding oscillator section
Knife-sharp filter section
Amp section with great presence and distortion
EG and LFO add subtle tonal movement
Virtual patches for sophisticated sound-editing
Versatile and distinctive vocoder
128 programs for immediate use
Freely settable arpeggiator
MIDI controller functionality
Starting at $48/mo or 0% APR.
---
---
---
Need help deciding?
Contact us right now!
Call or chat with one of our experts.
In the box
Knox Gear Adjustable X-Style Keyboard Bench
Knox Gear Adjustable Double X Keyboard Stand
Knox Gear Adjustable Double X Keyboard Stand
2 x Central Cross Bars (One includes a lever)
2 x Long Base Bars (A & B)
2 x Short Base Bars (C & D)
Connector Components
8 x Screws
8 x Round Washers
8 x End Caps
8 x Square Nuts
Allen Wrench
User Manual
1 Year Warranty
Tascam TH-03 Closed Back Over-Ear Headphones (Black)
Tascam TH-03 Closed Back Headphone (Black)
Snap-on 1/8 inch to 1/4 inch adapter
KORG microKORG 37-Key Keyboard Synthesizer and 8-Band Vocoder with X-Style Bench Bundle
The microKORG is a compact-sized synthesizer with vocoder functionality that delivers the true enjoyment of synthesis. Underneath its small exterior lurks an amazingly powerful synthesizer. It is fun to play, and it delivers a sound and functionality that will satisfy everyone from the beginner to the professional. The built-in vocoder and selectable-step arpeggiator add a new dimension to performing and recording without the need to master new technologies. External sounds can be processed by the microKORG's filter and more. With dedicated knobs and an index to the sound-editing parameters available on the front panel, microKORG allows each player to go as deep into the sound engine as desired. But for many musicians, just choosing the sounds from the convenient categories provides instant satisfaction. This explicitly designed bundle comprises the microKORG 37-Key Keyboard Synthesizer and 8-Band Vocoder, Adjustable X-Style Keyboard Bench, Single-Braced Adjustable Keyboard Stand, and TH-03 Closed Back Headphones.
Knox Gear Adjustable X-Style Keyboard Bench
The Knox Gear Adjustable X-Style Keyboard Bench is an extremely comfortable seat, great for practice or playing shows on the road. A double thick, padded seat cushion provides ultimate comfort and support while playing for long periods of time. The adjustable height and sturdy frame make it the perfect choice for children and adult musicians of all experience levels.
PRODUCT FEATURES:
2-inch Padded Cushion
250 lbs Weight Capacity
4 Height Settings: 19" to 24"
Sturdy & Stable Design
Rubber Tipped Feet
Folds Flat (Some Disassembly Required)
STURDY X-STYLE DESIGN
An extra-strong X configuration offers maximum stability and support. Safely supports up to 250 lbs. Perfect for children and adults of any height.
FOLDS FLAT FOR STORAGE & TRAVEL
Portable and travel-friendly with the ability to fold down completely for compact storage. Since the bench is built for ultimate stability, it will not fold flat without first disassembling the legs and cushion. This premium engineering feature provides superior stability for longer lifetime quality when compared to quicker flat-folding benches.
RUBBER TIPPED FEET
The feet are capped with rubber tips that grip the floor effectively to prevent scooting, rocking, or sliding during use. The rubber end caps also prevent scuffs, scratches, and damage to floors and stages.
COMFORTABLE PADDED SEAT
Maintaining proper posture is important when playing the piano or keyboard. Not only does it help you play better, but it also reduces the chances of injury. 2" of premium cushioning provides superior comfort and firm support. Helps maintain good posture while playing. Great for rehearsals and long practice sessions.
4 ADJUSTABLE HEIGHTS
Pre-drilled holes allow users to adjust the height of the bench between 19 and 24 inches high. A metal bolt with a plastic knob makes the adjustment process easy.
Knox Gear Adjustable Double X Keyboard Stand
The Knox Gear Adjustable Double X Keyboard Stand is an excellent way to hold your keyboard during practice or shows. Features include a double-braced design for added stability and non-slip caps to ensure that the floors don't scratch. This stand's height is infinitely adjustable and the maximum load weight is 45 pounds. Additionally, this incredibly sturdy and durable stand folds flat for easy storage and transportation.
Sturdy Double-X Design
The Double-X design provides extra support to accommodate even the heaviest instruments. Its reinforced design gives this stand a maximum load weight of 45 pounds, so you can use it with a wide variety of keyboards.
Infinite Adjustability
Many keyboard stands are only adjustable in set increments, but the Knox Gear Double-X Keyboard Stand is infinitely adjustable! This keyboard stand features a special sliding lock that allows the stand to be adjusted to any height between 4" and 38". This makes the keyboard stand ideal for players of any age or height regardless of if they're sitting or standing.
Rubber End Caps Prevent Slippage
The top and bottom bars of the keyboard stand have rubber end caps to further prevent slippage. The top-end caps hold your keyboard in place while the bottom ones grip the ground to prevent sliding on most surfaces.
Minimal Assembly Required
This stand requires minimal assembly to use. It comes with bars, screws, washers, end caps, nuts and Allen wrench. The included manual has instructions and a video on how to put it together.
Tascam TH-03 Closed Back Over-Ear Headphones (Black)
A tightly-stitched, padded headband, and closed back design, these are the features that make the Tascam TH-03 stylish and comfortable with tremendous sound quality. A perfect companion for professionals in studio or the frequent travelers, these foldable headphones are highlighted by left and right ear pads that offer amazing flexibility via full 90-degree rotation. Get ready to listen to your favorite tunes in clear balanced sound.
Portable Headphones
With the included 1/8 to 1/4 adapter, the TH-03 headphones can be used both outdoors and indoors. No matter where you go, you can always take the amazing, professional sound quality of Tascam with you.
Ratings and reviews
KORG microKORG 37-Key Keyboard Synthesizer and 8-Band Vocoder with X-Style Bench Bundle
KORG microKORG 37-Key Keyboard Synthesizer and 8-Band Vocoder with X-Style Bench Bundle
---